As we move to Level 5, the MMRA would like to extend an offer of help to any elderly or those who may have their immunity compromised.  Email mmra@mountmerrion.ie or phone Nicola at 087 639 5392 if you need assistance.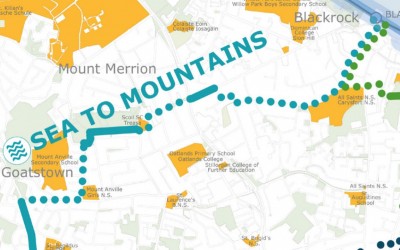 * Date for submissions has been extended to November 6th, 2020
Proposed route: From N11 up East Avenue through the Church car park on The Rise via the lane way at Scoil San Treasa to Deerpark and out through Mount Anville. There will also be a segregated cycle path on the Lower Kilmacud Road.
read more
Subscribe for regular news updates
Mount Merrion is a suburban estate in South County Dublin developed on lands once the seat of the Viscounts Fitwilliam. Centred around the Deerpark, a public park first landscaped by the 5th Viscount, and the remains of the house he built there in 1711, Mount Merrion today is generally considered to be bounded to the North by The UCD campus at Belfield, to the East by the N11 and Booterstown and Blackrock, to the South by Stillorgan and Kilmacud, and to the West by Goatstown and Clonskeagh.  *Lower Kilmacud Road residents on the right-hand-side from Stillorgan Shoping Centre, odd numbers 103 to 167, including 111a, are within Mount Merrion demense.  The Mount Merrion Residents Association, founded in 1935, is the oldest residents' association in continuous existence in Ireland. It represents the following roads:
Callary Road
Cedarmount Road
Cherry Garth
Chestnut Road
Clonmore Road
The Close
Cypress Road
Deerpark Road
Fosters Avenue
The Fosters
Glenabbey Road
Greenfield Road
Greygates
Iris Grove
Lower Kilmacud Road (partial)
Mather Road North
Mather Road South
Mount Anville Road
North Avenue
Owenstown Park
Redesdale Crescent
Redesdale Road
The Rise
Roebuck Ave
St Thomas Road
St Thomas Mead
South Avenue
Sycamore Road
Sycamore Cresent
Sycamore Avenue
Thornhill Road
Trees Avenue
Trees Road Lower
Trees Road Upper
Wilson Crescent
Wilson Road
At its peak, Mount Merrion rises to 82m (269ft) above sea level.